IL PREMIO

IL PREMIO

IL PREMIO

IX PREMIO FONDAZIONE VAF CURRENT POSITIONS IN ITALIAN ART
STADTGALERIE KIEL 12.3.– 22.5.2022
The VAF Foundation is very pleased to announce that the 9th edition of the "VAF Foundation Award" will be held at the Stadtgalerie in Kiel (Germany) from 11 March to 22 May 2022. The works of the nine finalists selected by the Foundation Jury will be presented: Luca Azzurro, Renata e Cristina Cosi, Silvia Inselvini, collettivo KEM, L'orMa, Enrico Minguzzi, Sebastiano Raimondo, Dario Tironi, Valeria Vaccaro.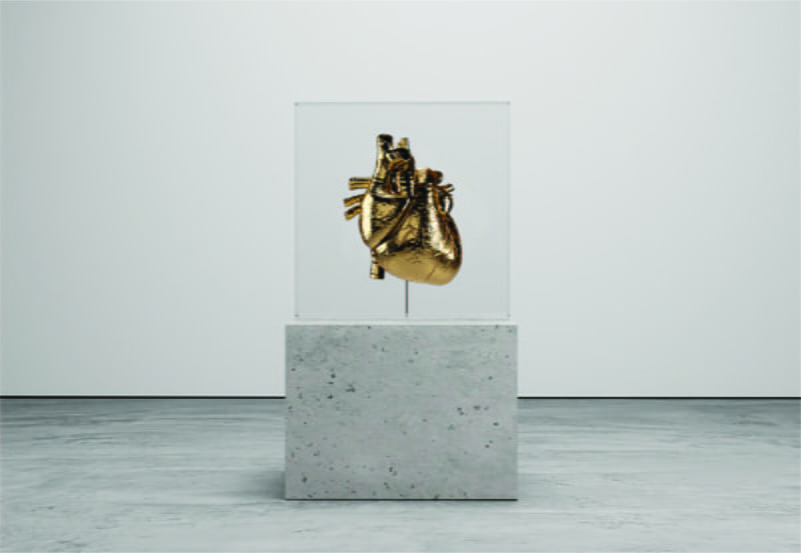 Kem Cuore d'oro, 2020
Download flyer
Starting from the 9th edition in 2022, the VAF Foundation will award a first prize worth 15,000 euros, a second prize worth 7,500 euros, and a third prize worth 5,000 euros. The winner of the first prize will be entitled to the acquisition of the work in competition, which will therefore be added to the amount of € 15,000, thus becoming part of the VAF Foundation Collection. New in this edition will also be the exhibition display: alongside the works of the young artists, a selection of works of Masters belonging to the VAF Stiftung Collection will be exhibited. For the 2022 edition, some works by Paolo Baratella from the VAF Stiftung Collection will be showed and the artist will receive a career award. On the occasion of the exhibition, a catalog will be published, in a bilingual German and Italian edition, published by Manfredi Edizioni.

VIRTUAL TOUR

VISITA VIRTUALE

VISITA VIRTUALE

THE ARTISTS

GLI ARTISTI

GLI ARTISTI
Luca Azzurro Renata + Cristina Cosi Silvia Inselvini KEM L'orMa

WINNERS

I VINCITORI

I VINCITORI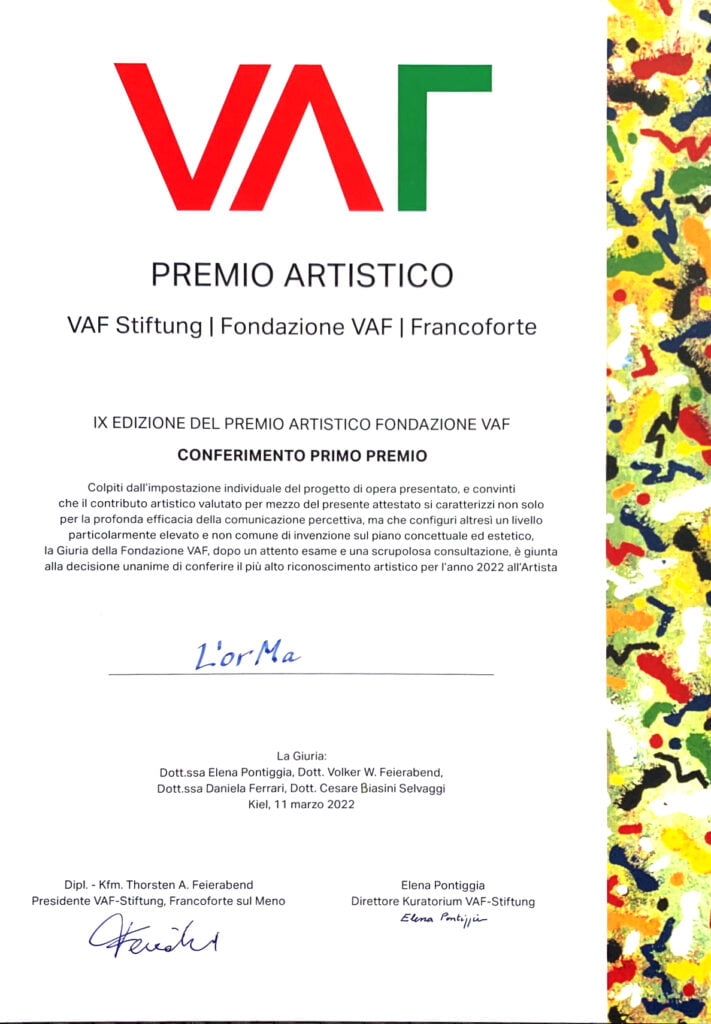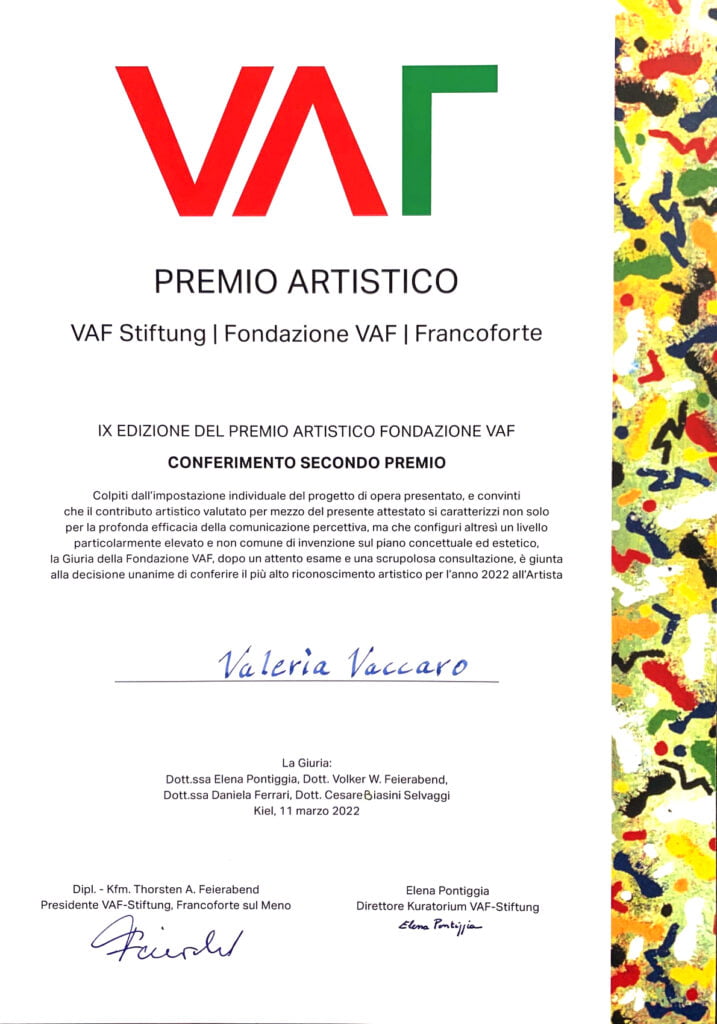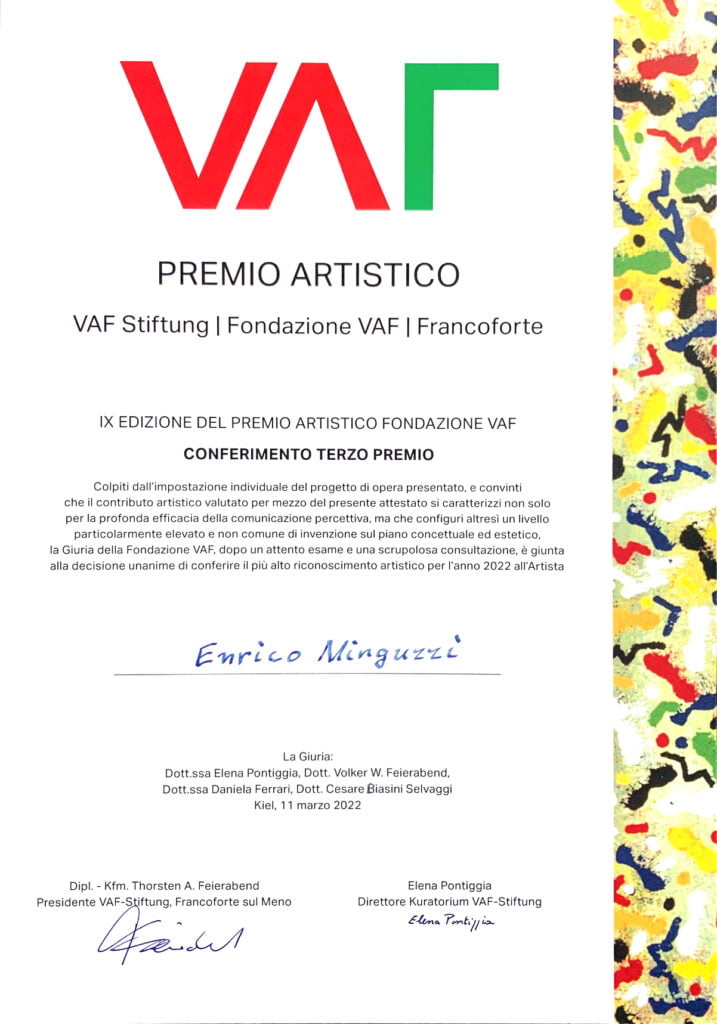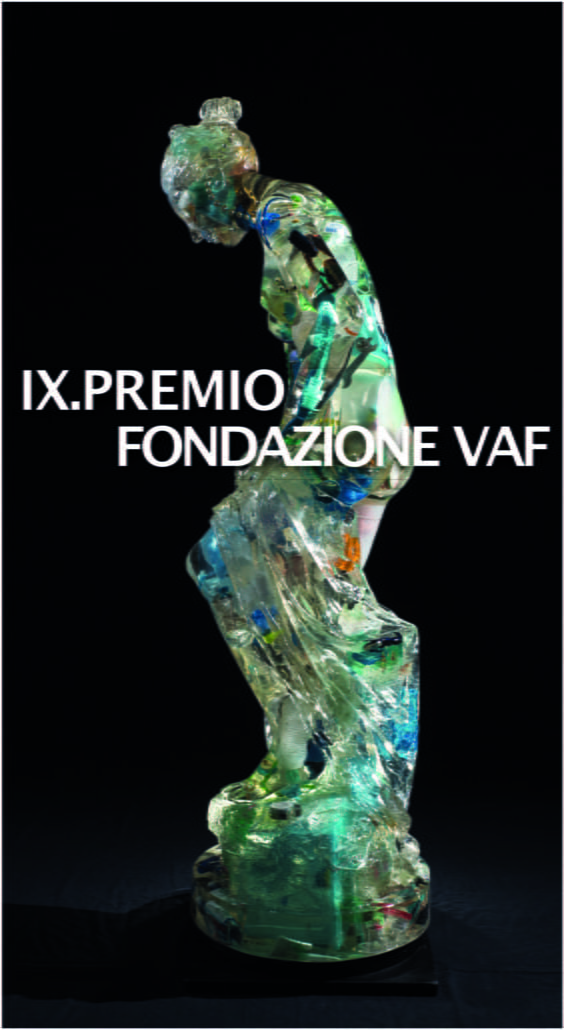 Dario Tironi Bagnante contaminata, 2020
ABOUT THE PRIZE

ABOUT THE PRIZE

The VAF Foundation, a non-profit foundation under civil law based in Frankfurt am Main, has the main objective of promoting innovative items in contemporary Italian art and communicating these to the public by awarding a prize, as well as through exhibitions and publications.
The Foundation's assets essentially consists of a qualitatively and quantitatively high-quality collection of Italian art from the 20th and 21st centuries and one of the concerns of the VAF Foundation is to further expand this collection through further acquisitions and loans to museums in Germany , Italy and other European countries for displays to the interested public.
The award, which the VAF Foundation awards every two years, is a sponsorship award that was formerly called "Premio Agenore Fabbri", but is now called Premio or the "The VAF Foundation Art Prize".
This award is open to all contemporary artists and in all media.
Download the statutory

X PREMIO VAF-STIFTUNG 2024

X PREMIO VAF-STIFTUNG 2024

X PREMIO VAF-STIFTUNG 2024
Applications are open for the X Premio Vaf-Stiftung
READ THE RULES
WRITE YOUR APPLICATION ONLINE